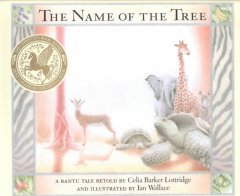 The Name of the Tree a Bantu Tale retold by Celia Lotteridge and illustrated by Ian Wallace
A well-known Bantu tale brought to dramatic life by extraordinary pictures depicting Africa in an uncliched way.
When a drought spreads through the land of the short grass, the animals set out across the great plain to find food. Their only hope for survival is a tree with a variety of colorful fruit. The problem is its branches are too high. To reach them, the wise old turtle says, one must know the name of the tree, something only King Lion is privy to.
In this Bantu folktale retold by Celia Barker Lottridge, the hero is not the most cunning or the strongest but the one that tries the hardest. Ian Wallace's striking illustrations of desert landscape and luscious fruit help bring this tale to life.
Activities:
1) Have fun chanting the refrain from this story over and over with your children as you read it;
2) Try acting the story out as the different characters or out in nature where you could find a tree like the one in the story;
3) Young artists can make trees like in the story with colourful scraps of paper, or make masks out of paper plates to turn themselves into the tortoise or the lion or the elephant;
4) When walking a long way or trying something new that needs lots of patience, make up a chant like the little tortoise did to keep on the right track.
To access the book at the Burnaby Public Library, click here.
To find the book at Chapters, click here.